A long, long time ago...

The year was 1990, and a young kid had just got his hands on the Windows 286 SDK. He decided to pack as much tile-shifting gameplay into one 16-bit page as possible, and Switch was born.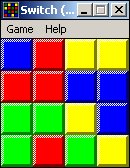 That version had only a 4x4 array of tiles, and the "classic" (now eerily reminiscent of the Windows 95 logo) color scheme. There were no button hints, so EVERYBODY played in hardcore mode.
But the game had 600 difficulty-ranked levels, and was a snappy 64k download.
Sadly, Microsoft decided to abandon 16 bit application backward-compatibility in their operating systems, and in so doing has motivated a new version with all-new features.