Big Dice Games Presents
Woody Tigerbaum's Interplanetary Package Delivery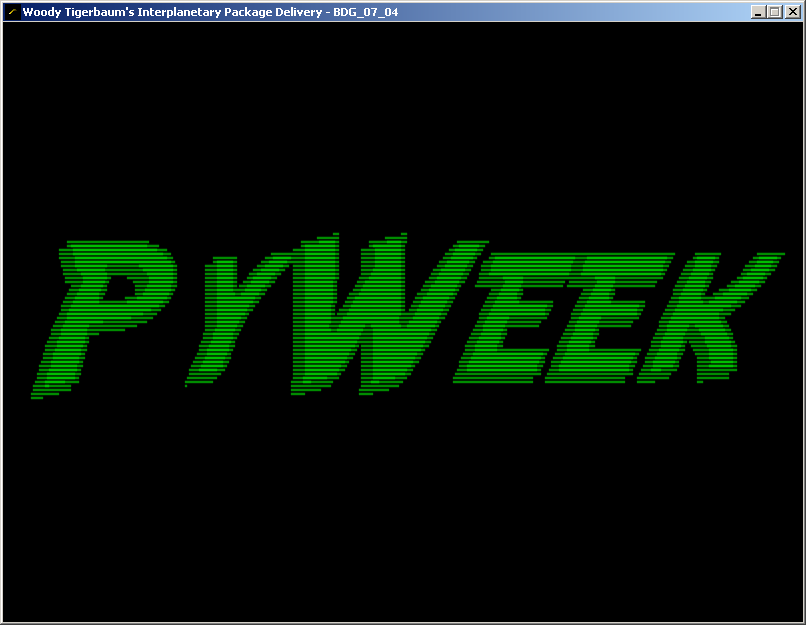 BDG_07_04's PyWeek4 Entry
I entered The Fourth PyWeek challenge, running April 1st-7th, 2007.

On April 21st, the rankings were announced here. I came in second in the individual entries.

Some comments:
This was a really fun game to play with a lot of replay value
I spent nearly 45 minutes trying to beat this game. Good job.
This would actually make a really fun party game :)
WOW!
| | |
| --- | --- |
| NEW! latest version 0.92 (Win) | Download |
| NEW! latest version 0.92 (Src) | Download |
| post-contest version 0.91 (Win) | Download |
| post-contest version 0.91 (Intel Mac) | Download |
| post-contest version 0.91 (Src) | Download |
| Contest Entry (src/Win) | Download |
| Mirror of Contest Entry (src/Win) | Download |
| PyWeek page for my entry | HERE |
| PyGame page for the game | HERE |
I've begun writing a document talking about how I made the game:

---
Woody Tigerbaum's adventures continue in Woody Tigerbaum's Twisted Marble Factory, a game of marbles, crates, and twisty tubes.

If you have questions or comments about the game, please contact me at pyweek at bigdicegames dot com